For $24.99 USD get your copy of GoodMusicPractice and download your PDF within a minute of purchase.
Just click the PayPal "Buy Now" button below.
You don't need a PayPal account to buy GoodMusicPractice.
---
---
Hello, my name is George Urbaszek. I am a bass player and music educator.
This website is made for all musicians who want to (or must) improve their practice techniques, strategies and routines. Whether you are in need of guitar practice tips, piano practice tips, bass practice techniques, sight-reading tips ... you get the idea: tips on how to practice any music instrument including vocals and drums ... just read on to find out how GoodMusicPractice will give you skills and strategies on how to practice music effectively.
GoodMusicPractice.com is for beginner musicians and professionals alike.
It is a great resource for music teachers too!
And ... it helps parents find the best music practice method for their children.
Do you have problems focussing?
I can help you get centered.
Do you need help finding the best music practice method for your child?
My eBook will give you and your child the guidance you need.
Do you have performance anxiety?
I can help you overcome your apprehensions.
Do you practice the right stuff?
I can help you choose the best music practice items.
Is your music practice going in circles?
I will help you get out of that rut.
Is your sight reading slow and tedious?
With my help you will get it at least 95% right on the first pass.
Can you practice comfortably with a metronome?
I will give you some great tips on how to practice music with a timekeeper - This will get your groove on.
Do you need to improve your aural skills?
I will show you exactly - in very easy steps - how you can work out an entire piece of music from a recording
Simply put, without good music practice your/your child's/your students' music practice and performance will suffer.
During my 48 years of experience as a musician and 36 years experience as a professional musician and music teacher, I have come across many ways of how to practice music. Some of those music practice techniques were effective and efficient and others were truly a waste of time, resources and energy.
I made many mistakes myself… but always found a way to fix them. That is the key. And that key I can give to you.
The approach I use to help you overcome your practice difficulties is suited to you and your way of life. My system address all types of learners.
One of the first things you will find via my system is the ability to identify what type of learner you are. Once you know how you learn best, you will be able to easily apply simple, yet predominantly unknown or often overlooked elements from my system of GoodMusicPractice. These elements will significantly improve your own music practice.
The great thing is that you probably don't even have change how much or how often you practice. With my help, you will learn how to practice your music with only very small, incremental, yet very positive, easy and manageable changes.
You can see proof of my music teaching method on this web page Music Practice Proof (which contains at least 94 testimonials) and on my You Tube channel (with over 3.5 million views and 15,000 subscribers) here George Urbaszek on You Tube
Please sign in below so you can receive a FREE SAMPLE of GoodMusicPractice as well as lots more information about how GoodMusicPractice will help you.
The sign-up form below is provided just in case you closed the pop-up.
The GoodMusicPractice Method - An Overview
When you buy the entire GoodMusicPractice Method you will learn
Why GoodMusicPractice works for you
What type of learner you are
How you learn best
The three secrets to help improve your sight reading drastically
Warm-ups ... and why they may NOT work for you
The ideal practice routine to suit your personal circumstances
How to teach yourself
How to learn a new piece of music - both written and by ear
How to practice and master difficult passages ... easily
How to focus with consistency
How to overcome performance anxiety
How you can use the GoodMusicPractice Method in the classroom
... and much, much more!
To get your copy of GoodMusicPractice and download your PDF within a minute of purchase, just click the PayPal "Buy Now" button below.
You don't need a PayPal account to buy GoodMusicPractice.
---
---
Good Music Practice is now available as a hardcopy. To get your copy for $24.95 (plus postage) please click the cover image below.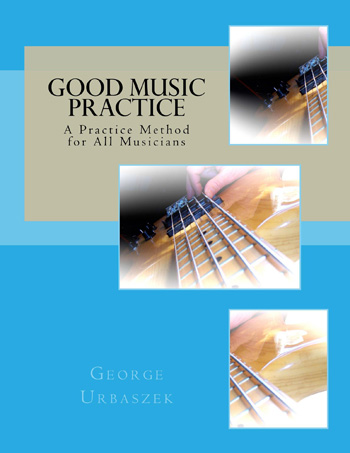 ---
NEWS FLASH!

Good Music Practice is also available as a Kindle eBook. To get your Kindle version for just $9.99 please click the cover image below.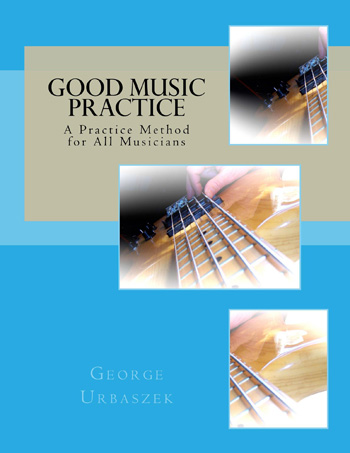 ---
Site updated 26 May 2016
---
TESTIMONIAL
"I had the privilege of proof reading this for George and would recommend it to any musician of any age or level.

It is a comprehensive work (95 pages) covering many elements of "music practice" set out in clearly defined chapters.

It is written in the first person and is like having one on one lessons with George.
Check it out at GoodMusicPractice.com
Free samples are available or you can download the complete work for a reasonable $24.99"
Steve Loader
Musician and Music Teacher
TESTIMONIAL
"George, I've been in business since 1986 and built the largest franchise print shop in the states for many years.

Many things you say in there I've used over the years: Practice, focus, repetition, you are what you think.

I'm 70 now and find it interesting that those same things work for music.

I like the book a lot."
Phil Cheney, 9 August 2012